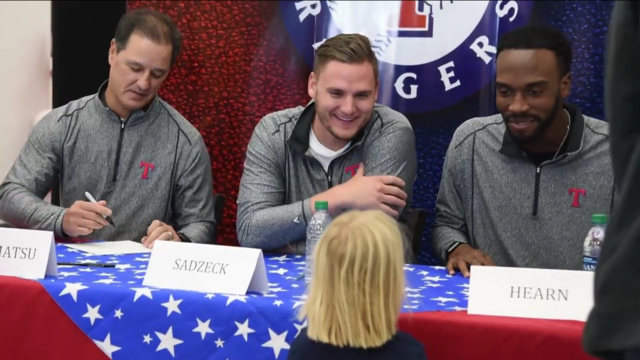 Look at the roster of any professional sports team and it becomes evident that these elite players come from widely diverse backgrounds – economically, culturally, academically, and even in the size of their hometowns. This is especially true of Major League Baseball players.
Because of the smaller number of kids, the odds of a small town producing a professional ball player are not great. However, history has shown that many of the elite pitchers who took the mound in an MLB game came from smaller communities: Dizzy Dean (Spaulding, OK), Nolan Ryan (Alvin, TX), and Justin Verlander (Goochland, VA – population 679).
Having pitcher Taylor Hearn (Royse City, TX)as the 2022 opening day starter for the Texas Rangers is nothing short of a ringing endorsement for growing up in a small town! For the kids who live in Royse City and the master-planned community of Creekshaw Taylor Hearn is a VERY big deal. His story is a baseball parable, of sorts. It shows how growing up in a small community can be very much an advantage in a competitive world like baseball.
An All-American City
The city where Hearn grew up has grown some since he blew fastballs past opposing high school hitters. However, the city's small-town charm (https://creekshaw.com/main-street-is-something-special-in-royse-city-texas/) and neighborly attitude have remained, and this is one of the reasons the developers of Creekshaw chose this city to build one of the most beautiful, amenity-rich communities in the Dallas Metroplex.
The kids in Royse City attend exemplary schools and have plenty of support from caring teachers and administrators. They enjoy a less-stressful "world" than more urban environments because this community is the epitome of "family friendly." This gives them a firm foundation for success as an adult.
Speaking of success, Taylor Hearn is having a great life. However, it has not always been an "easy street" for this young man.
Dealing With the Ups and Downs of Professional Sports
The Texas Rangers pitcher could have followed the footsteps of his father, grandfather, and three uncles and become a professional cowboy, working the rodeo circuit. As a youngster, he participated in this rough-and-tumble sport, and folks who followed rodeos thought he might be a natural. Of course, this was before he learned to throw a baseball 90 miles an hour! That changed everything.
According to this article, after a brilliant high school career at Royse City, he was drafted after his senior year by the Pittsburgh Pirates in the 22nd round of the 2012 MLB Draft. Rather than sign, he chose to attend San Jacinto College and hone his pitching skills. For the next two years, he was drafted each year by other MLB teams, but he chose to transfer to Oklahoma Baptist University and continued playing college ball. After one year at Oklahoma Baptist, he was drafted by the Washington Nationals in the fifth round of the 2015 MLB draft and signed.
After spending time in the Washington and Pittsburgh organizations, Hearn was traded to his "hometown" team, The Texas Rangers, 2018. After time in the Rangers minor leagues system, he was called up to the big show in April 2019.
Everything looked sweet until his major league debut against Seattle. It lasted less than one inning. He allowed five runs, injured his left shoulder, and then later fractured his elbow during rehabilitation from this injury. This is when having a supporting family and small-town tenacity saved the career of Taylor Hearn.
Hearn fought his way back to the "big leagues." In 2020, he went 0–0 with a 3.63 ERA and 23 strikeouts over 17 ⅓ innings for Texas, and with the Rangers in 2021, Hearn went 6–6 with a 4.66 ERA and 92 strikeouts over 114⅓ innings. In 2022, he was deemed the ace and got the opening day assignment.
Before his opening day outing, Fox 4 TV in Dallas interviewed Hearn and gave him a tip of the cap. "No matter how perfect or imperfect Taylor winds up pitching against the Colorado Rockies (opening day), Monday will be a victory for the family that's stuck out those highs and lows – that's been on the other end of Taylor's 2 A.M. phone calls."
"He says, 'Mom, I don't want to do this anymore,'" says Debra Hearn, Taylor's mom. "I said, 'Taylor, I'm not going to let you quit.
"In those moments, Taylor's dad Robby tells him, 'Taylor you've got to push through.'
"His sister, Robyn – born exactly four years to the day after Taylor – has seen her older brother learn to thrive in those tough times. That's when I feel like Taylor prevails the best," says Robyn. 'When he's in those low moments.'"
Your Kids Deserve to Grow Up Here
Not every child who grows up in the small town of Royse City is going to become a star athlete, scientist, or teacher who changes the lives of their students. However, having the confidence, support, and tenacity that is often found in a tight-knit community can be a foundation for success as an adult.
If you want to see what life in Royse City is like, come take a look at Creekshaw. The neighborhoods are full of kids, enjoying a quiet lifestyle and having fun. Who knows what kind of great things can come from this?