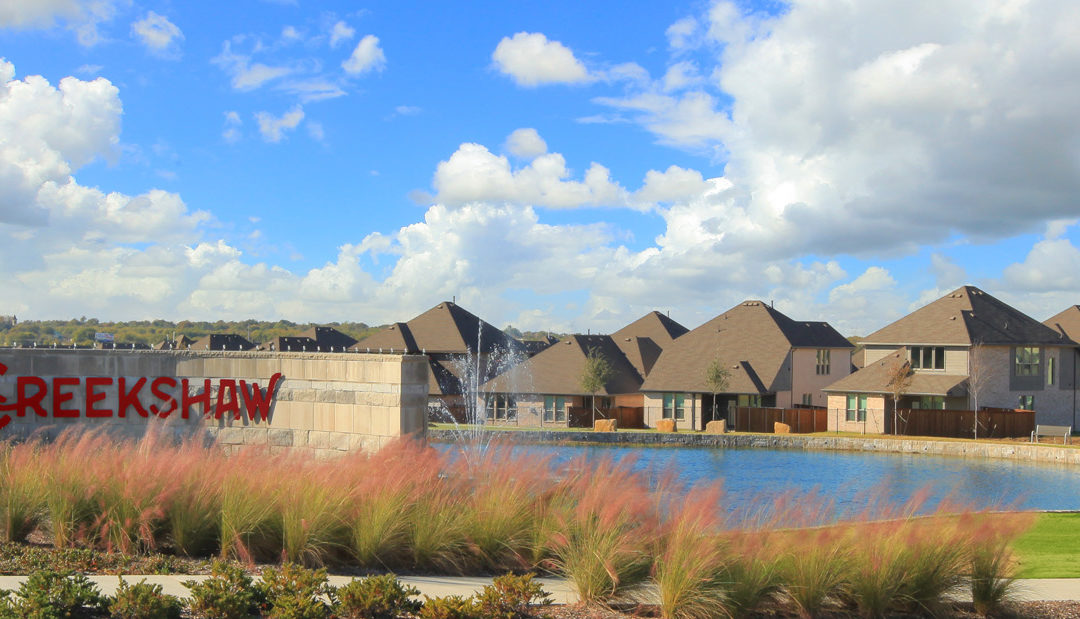 For families considering buying or building a new home today, the opening sentence from Charles Dickens' classic historical novel, "Tale of Two Cities," resonates just as strongly now as it did when it was first written. With the evolution of the residential building "art and science," the options have never been better. Amazing locations, amenities that before now were only found in expensive resorts, utility-saving engineering, spectacular architectural options, and the rise of master-planned communities such as Creekshaw, located in Royse City between Garland and Dallas,  it is clearly the "best of times" for homebuyers. 
However, buyers are rightfully concerned about the economy and its effect on the financial aspects of sharing the American Dream of homeownership. While it is understandable to be concerned, historically, this is certainly not the worst of times to be buying or building a new home. As home buyers for many generations have learned, all it takes is a good plan of action.
The Best of Times
Let's start with the good news. Master-planned communities have fundamentally changed the value proposition of building a new home. Communities such as Creekshaw, conveniently located north of Dallas in Rockwall County, are a great example of why now is a great time to make the decision to build a forever home today.
Creekshaw is located in one of the oldest towns in Texas, Royse City. The award-winning downtown area offers a charm that is simply not available for most communities. The developers of Creekshaw recognized this warm, small-town vibe and designed a master-planned community that has become a part of this quality of life.
State-of-the-art amenities such as the immaculate Creekshaw amenity center, with its massive pool and meeting spots, is surrounded by the luxurious walking and biking trails of Creekshaw. These paths have been created with the gently rolling terrain in mind and this eco-therapy is a great way to recharge.  
The schools are also top-flight. The Royse City Independent School District is far above average among other districts in Texas. It boasts a student-to-teacher ratio of 15 to 1, which allows for more individualized instruction. The graduation rate for students in the district is an impressive 96 percent. The Royse City ISD is among the top 500 Best School Districts in Texas. 
Meeting the Mortgage Rate Challenge
Every generation of home buyers has had to grapple with what appears (at the time) to be tough economic headwinds. Of course, with regard to mortgage rates, things have been better, but they have also been much worse.
As of the end of July 2023, Forbes reported, "The average Annual Percentage Rate (APR) for the benchmark 30-year fixed-rate mortgage rose to 7.33% today from 7.27% yesterday. This time last week, the 30-year fixed APR was 7.32%. Meanwhile, the average APR on a 15-year fixed mortgage sits at 6.60%. At this same time last week, the 15-year fixed-rate mortgage APR was at 6.57%. And the average APR on the 30-year fixed-rate jumbo mortgage is 7.18%. Last week, it sat at 7.07%
Here's how this impacts a family considering buying or building a home:
| LOAN TERM | INTEREST RATE | APR % | MONTHLY P&I per $100,000 |
| --- | --- | --- | --- |
| 30-Year Fixed | 7.40% | 7.33% | $687 |
| 15-Year Fixed | 6.63% | 6.6% | $876 |
| 30-Year Jumbo | 7.23% | 7.18% | $677 |
The experts at Forbes add, "Expect the Federal Reserve's ongoing monetary policies to continue to put some upward pressure on mortgage rates, with the Fed signaling that it will slow rate hikes, a downward shift in mortgage rates may soon come. While mortgage rates are directly impacted by U.S. Treasury bond yields, the Fed's actions to contain inflation by hiking the federal funds rate tend to push mortgage rates upward."
This suggests that NOW might be a good time to apply for a mortgage. Even if this relatively lower rate window is missed, other real estate experts see lower mortgage rates on the horizon. Reported by Forbes:
William Raveis Mortgage regional vice president Melissa Cohn says, "Mortgage rates will follow inflation rates in the next few months. If the rate of inflation continues to drop, mortgage rates will follow right along. In addition, new job creation and consumer spending will impact mortgage rates—if we see that fewer jobs are created and consumer spending declines, slowing the economy, then mortgage rates will drop."
National Association of Realtors (NAR) deputy chief economist and vice president of research Jessica Lautz adds, "The 30-year fixed interest rate for mortgages has remained stubbornly high. The expectation is that the Fed will see the ease in inflation and there will be a ripple effect to the mortgage market. By 2024, NAR anticipates the 30-year fixed rate will be at 6%, which will be a welcome relief to potential home buyers."
Tips on Getting a Good Mortgage Rate
Of course, lenders decide a homebuyer's mortgage rate. However, the editors of Forbes note, "There are some proactive steps you can take to ensure the best rate possible. For example, advanced preparation and meeting with multiple lenders can go a long way. Even lowering your rate by a few basis points can save you money in the long run."
Here are some other ways you can improve your chances of getting the best deal:
Take stock of your financial situation. For instance, start by looking at your debt-to-income (DTI) ratio—aka your total monthly debts against your monthly earnings—to determine how much home you can afford.
Review your credit score. Lenders look at your credit score to evaluate the risk you pose as a borrower. Paying down balances, limiting new credit cards and loans, and checking your credit report for errors can all work towards raising your score.
Meet with several lenders. Don't go with the first lender quote you receive. Shop around to get the best deal—research various mortgage lenders and different loans you might qualify for to put yourself in a stronger position once you are ready to buy a home.
Crunch the numbers with a mortgage calculator. Once you know which type of loan you qualify for, you can estimate your monthly payments by punching your numbers into various mortgage calculators, such as a 30-year fixed mortgage calculator or mortgage amortization calculator.
Save money now. The more you put down on a home, the less you'll need to borrow from a lender.
Now Is a Great Time to Move Up to Creekshaw 
Having a glorious home in the master-planned community of Creekshaw can be in your future with a little planning. Now is the time to begin the process. It starts with making a short drive to this idyllic small town and seeing what so many people have discovered about Creekshaw. It's true. You'll know when you've arrived!