Royse City, home to the master-planned community of Creekshaw (https://creekshaw.com/housing-trends-suggest-now-is-the-time-to-build-buy-in-creekshaw/), is one of the oldest cities in Texas. This sumptuous community, located between Dallas and Garland has become known for its massive pool in the multi-purpose amenity center and the luxurious hiking and biking trails that wind through the property. However, its convenient location is one of its most popular features.
This part of the "Upper East Side" of Texas is a charming place to call home and it is surrounded by other lovely and historically significant towns. For anyone looking for a fun way to spend some family time, these other towns are great for exploring.
Looking for Family Day Trips from Creekshaw? Here are 3 Great Ones
Distance from Creekshaw and Royse City – About 2 hours
As its website notes, "The rich and diverse history of Jefferson, Texas is told through numerous factual and romantic accounts, including those that describe its dramatic rise to prosperity during the mid-1800s, as the state's largest and most significant river port. This period of prosperity has come to be known as "The Golden Era". Jefferson erupted into a mid-19th-century boomtown with the help of a genteel, graceful society of successful and well-bred families, a host of nefarious opportunists, and a rich assortment of eclectic individuals, while offering a supply point and doorway to settlers and immigrants looking for a new life. She was and remains, The Queen of the Bayou."
This city, on the banks of Caddo Lake, is a Bed & Breakfast mecca and thousands come and spend a couple of days browsing the dozens of eclectic antique stores, fine dining establishments, historic homes, and buildings on just about every corner.
Here's a great place to start your day trip to Jefferson.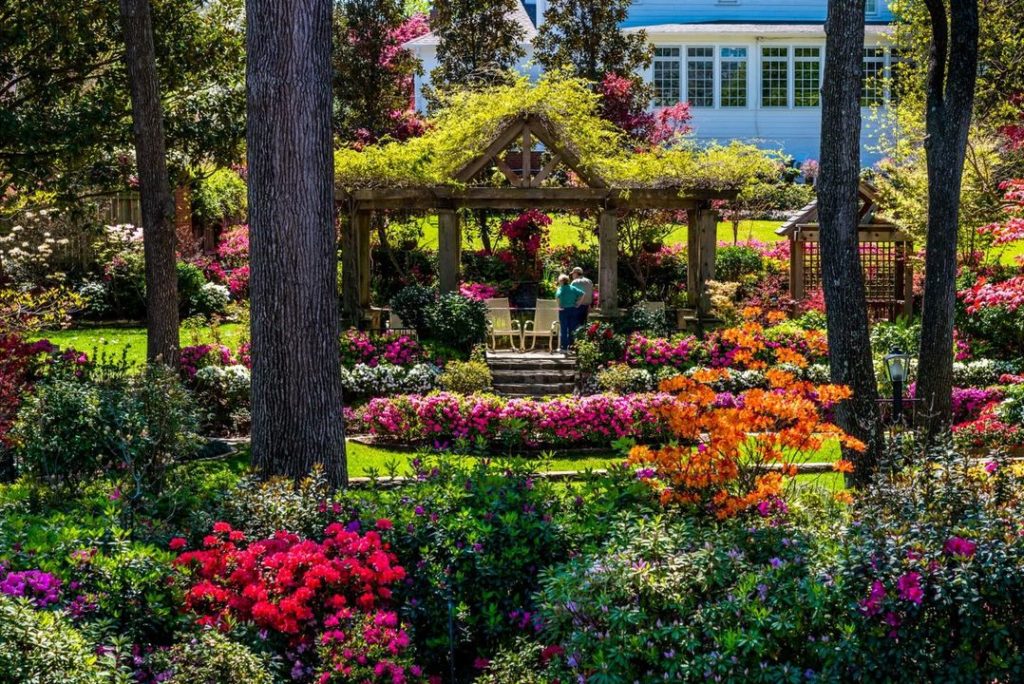 Distance from Creekshaw – 1 hour 35 minutes
Set among the pine forests of East Texas, Tyler is known for its blooming roses and vibrant azaleas, and spring flowers. Spend any time here and you'll also discover it's one of the most kid-friendly destinations around with plenty of exciting things to see and do for toddlers and teenagers alike. These include:
The Discovery Science Place
The Caldwell Zoo
The Waterpark at the Villages
Jellystone Park at Whispering Pines
The Tyler State Park
Urban Air Trampoline Park
For a great planning tool for a day trip to Tyler, just click here.
Distance from Creekshaw – 50 minutes
It wasn't long ago that Frisco, Texas was pretty much a railroad crossing spot. Now, the entire world knows about it, thanks to the Dallas Cowboys, FC Dallas MLS club, and the Frisco RoughRiders baseball team. There are lots of spots going on, but a ton more to do.
Featuring more than 70 miles of trails, Frisco offers hikers, bikers, runners, and walkers plenty of pathways to explore. When it comes to arts and culture, Frisco has that going on as well. The city's growing art trail includes the nationally recognized Texas Sculpture Garden. And no visit to Frisco would be complete without learning about Frisco's rich history at the Frisco Heritage Museum, standing alongside "Big Boy" at the Museum of American Railroad, or playing Pong on the world's largest home Pong console at the National Videogame Museum.
Click here to plan your day trip to Frisco.
Fun Times
With so many things to do in this master-planned community of Creekshaw, not to mention the surrounding places to explore, you might run out of time, before you run out of fun! To see what everyone is talking about, click here and come see Creekshaw.