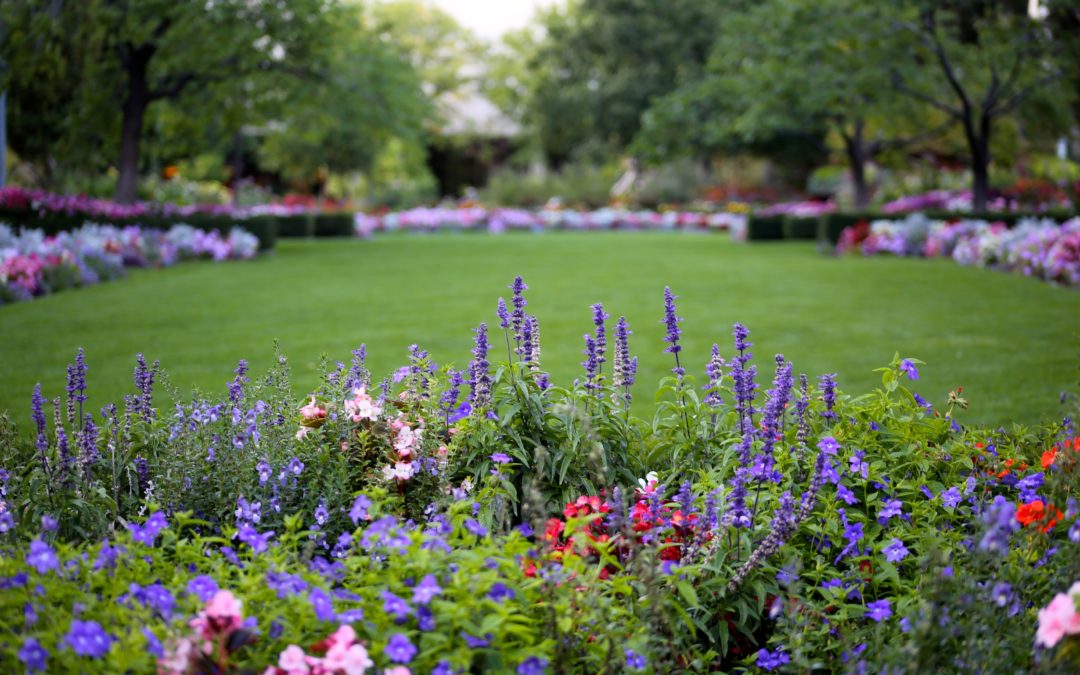 If you listen carefully, you can hear spring slowly slipping back into North Texas. Actually, that sound is probably the birds laughing it up. Nonetheless, their chirping is a sure sign that temperatures will be climbing, grills will be firing, kids will be daydreaming about summer vacation and the land will be turning green. 
For many residents of Creekshaw, a master-planned community just north of Dallas in Royse City, it also means it's time to dust off the garden gloves, remember where you put the shovel the last time you used it, and plant some flowers. For landscapers of all experience levels – from those who understand what the word "horticulturist" means to those who are just getting their thumbs to turn green – part of the fun of living in a gorgeous community like Creekshaw is making one's own yard a little slice of heaven.
This process is made a little easier by the surroundings of Creekshaw. This beautiful, new community is known for its outdoor amenities. A hike-and-bike trail system connects residential areas with pocket parks and open spaces. Residents are also within walking distance of a sports complex, and an all-purpose amenity center, complete with a resort-style swimming pool, event pavilion, and landscaped open space. 
The only questions that remain to be answered are: (1) what are the best flowers for the area and (2) where do you go to get some to plant in your yard?
The Best Spring Flowers for North Texas


According to the websites of several area nurseries including this one, "Because of the milder temperatures of North Texas, we see some amazing flowers much earlier than they do in the Northern areas of the United States."
There is a general consensus of the "best" (meaning most likely to survive and make random strangers who are driving past your home, slow down and turn green with envy!) flowers for North Texas. Here are five to consider.
Dianthus
This is a cool-season annual, which means it needs to be planted from seed every year in order to grow. According to the above source, the dianthus "grows here in North Texas November through April. The flowers of the dianthus come in both white and lavender in color. They grow to be about 12 inches tall/wide and should be watered every couple of days in well-drained soil."
Geraniums
Even if you've moved to the Royse City area from somewhere else in the country, you have probably seen geraniums as they are found almost everywhere. "But, here in Northern Texas, we get to enjoy them from February to May. Typically, they cannot survive the Texas heat past May," this expert notes. "They are beautiful to grow in pots and keep on your porch, come in both an upright and vine-like form, and they come in a variety of colors from red, pink, and even white. They do require watering every couple of days. These are wonderful to watch the hummingbirds and butterflies at. They thrive in full or partial sun."
Alyssum
According to this nursery, alyssum makes a great ground cover. "It covers the entire area with tiny fragrant flowers. This tiny flowering plant doesn't last long in the summer sun.  So, be sure that you enjoy it while you can. As it typically will not last past May.  It is a short plant that only grows about 3-4 inches high but spreads out around 12 inches. It too requires watering every couple of days.
Petunia
Many believe the MVP (most valuable PLANT) for North Texas Is the petunia. "It comes in all sorts of different colors and color combinations, is one of the most popular flowers for the spring and makes beautiful flower beds. Here's what a petunia looks like.  They can be a mounding form, meaning they are a floral-like small bush or you can get them in a vine-like form. These can be combined into pots for some beautiful floral displays.  They can start to bloom in February but will continue even into June. They are very hearty flowers."
Gerbera Daisy
Who doesn't love a bouquet of flowers, sitting on the dining room table, especially if they came from your own backyard? According to this expert, "gerbera daisy has a very brightly colored flower or can also come in white. These flowers make amazing bouquets to bring inside. They will quite often grow to 12 inches tall and enjoy the partial sun with watering every couple of days.  You will find that they grow the best from March to May here in Northern Texas. Once the heat is turned up, they don't do as well. Here's what they look like.
The Best Places to Find Plants Near Creekshaw

The mild weather around the Creekshaw community in Royse City, makes gardening very popular, almost year around. Some popular area nurseries include:
Wilder At Payne Creek
(214) 616-5686
Walmart Garden Center
(972) 635-2728
Advanced Water Gardens
(972) 635-2321
Covington's Nursery and Landscape Co.
(Rowlett, TX)
(972) 475-5888
Love being Outside?

If you have a passion for the "great outdoors," Creekshaw is calling you home! Come see how we've deigned spaces to enjoy the best of nature. Click here and let us know you're coming.